Hi Guys,
After some deep research and a few creative workarounds I'e got an integration of JRuby on NetKernel which I'm finally happy with.
Whilst switching to the ScriptingContainer seemed to be a good solution initially - I found that there was a dangerous fundamental core assumption about runtime context variables in the org.jruby.ast.executable.Script. Variable state is tied to ThreadLocals.
This doesn't play well with NetKernel since its very common to have re-entrant extrinsic recursive requests - that is the same thread will often re-enter the Ruby runtime before the initial script evaluation has completed. Its very common to run NetKernel with just one or two threads per CPU core. Requests are logically decoupled from Threads and so the NK kernel will allocate threads to requests so as to load-balance the system across available cores. The net result of this is that its not a safe assumption to think that the ThreadLocal variables are unique to a given Ruby Runtime/Script execution.
Fortunately, we were able to work out a "horse-swapping" pattern - whereby the state that would have been stomped on is extracted, the script then run, and finally the original state reattached. This doesn't seem to affect performance and means we're running concurrently with just a handful of threads and just one Ruby runtime per unique ROC spacial context (typically that's one per application).
The upshot of all this work can be graphically seen in these before and after unit test results...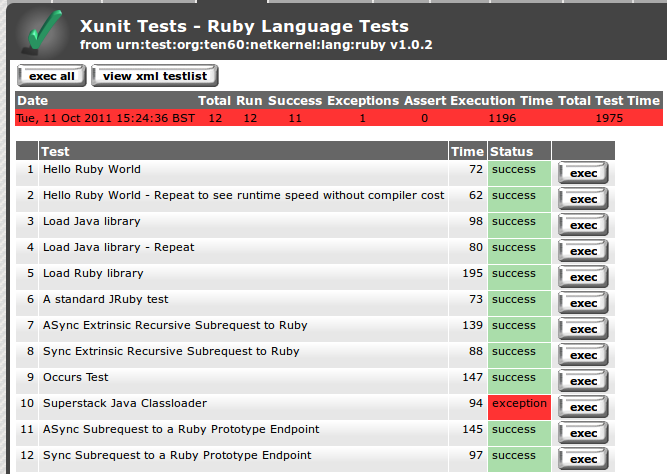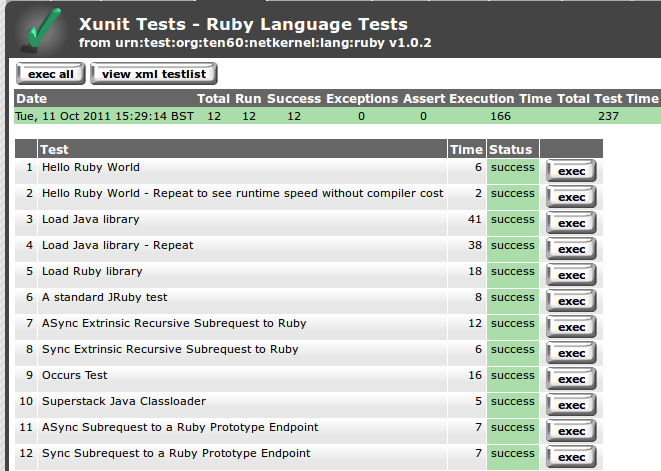 As you can see - the total time has come down from around 2 seconds to around 200ms (10x improvement). But these tests are generally testing both the compile time and runtime phases. The second test is more typical of operational load - a call to the runtime with a pre-compiled (transrepted) script. This has gone from 60ms to around 1-2ms.
These levels of performance are in the same ballpark as our other supported languages (groovy, python, javascript, dpml, xslt, xquery, dynamic-java etc) - so I'm happy to think that we've now got a decent solution.
Downloads
Please give these new builds of the libraries a try. As well as a new runtime library, the ruby.lib module now has the latest 1.8 Ruby library from the JRuby1.6.4 distro, and there are some more tests to trap extrinsic recursive Threadlocal mix-ups...
Thanks
Thanks for providing the spur to re-examine this. It will be great to be able to offer Ruby as another language choice on NK. Charles, please convey our thanks to everyone that has contributed to JRuby - when we're clear from the NK5 release process I'll post a few suggestions on the JRuby project issue tracker based on my experiences.
All the best,
Peter
PS Next time I'm in MSP - lets meet up for a beer (likely to be December time frame).